Biography

The Early Years

The Mountain Man

Life with the Crow

Farewell to the Rockies

In the Everglades

On the Santa Fe Trail

The California Revolt

The Mexican-American War

The "Terrible Tragedy"

The Forty-Niner

The Last Years

Beckwourth's Early Years
James Pierson Beckwourth was born in 1798 in Frederick County, Virginia to an African American slave mother and English father, Sir Jennings Beckwith. Although his father raised him as his own son, according to the law, Jim Beckwourth was still legally considered a slave. His father appeared in open court on three separate occasions (in 1824, 1825, and 1826) and "acknowledged the execution of a Deed of Emancipation from him to James, a mulatto boy."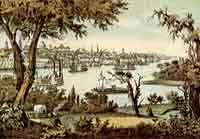 St. Louis, Missouri was the center of fur traffic in the early 1800's.


Beckwourth's family moved to Missouri in the early 1800's, and he was apprenticed to a blacksmith in St. Louis when he was a young man. But Beckwourth was unhappy as an apprentice, and after a dispute with his boss, he left home in 1822 on an expedition to the lead mines in the Fever River area.

After a brief sojourn to New Orleans, Beckwourth returned to his father's home, but was soon struck with wanderlust again, and in the summer of 1824 he signed on with General William Ashley for a trapping expedition to the Rocky Mountains.

< Previous Page

Next Page >
Notes
---
Beckwourth's Birth Year
While 1798 is generally given as the year Beckwourth was born, Elinor Wilson has made an excellent case that the year was actually 1800. See Jim Beckwourth: Black Mountain Man, War Chief of the Crows, Trader, Trapper, Explorer, Frontiersman, Guide, Scout, Interpreter, Adventurer and Gaudy Liar, University of Oklahoma Press, 1972.
Back



Website design and production by Mark Bradley Design, mbradley@bradleydesign.com.
Site hosted by Sutter-Yuba Internet Exchange.