Frontier Days

Frontier Days History

This Year

Bad Guys And Gals

Buffalo Soldiers Returning

The Tale of Two Cities

Beckwourth Frontier Days Sponsors

Volunteers & Sponsors

Contact Frontier Days

Buffalo Soldiers Returning To Beckwourth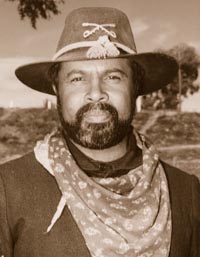 A contingent of the 10th Cavalry will return to Beckwourth Frontier Days on October 7 in historic Marysville.

The "Buffalo Soldiers" are making their seventh consecutive appearance at Beckwourth Frontier Days, the Sacramento Valley's only living history festival.

The event celebrates the frontier period of California and the many cultures which converged on the region during the middle of the 19th century. The festival features wagon train and mountain men encampments, a native American village, buckboard wagon rides, cultural and historical displays, a tomahawk throwing contest, gunfighting contests, and a variety of musical entertainment.

"Buffalo Soldiers" earned a reputation as loyal and fierce fighters in the United States cavalry. These African-American soldiers played important roles in helping immigrants traveling by wagon train from the East reach destinations in California and Oregon.



Website design and production by Mark Bradley Design, mbradley@bradleydesign.com.
Site hosted by Sutter-Yuba Internet Exchange.