Frontier Days

Frontier Days History

This Year

Bad Guys And Gals

Buffalo Soldiers Returning

The Tale of Two Cities

Beckwourth Frontier Days Sponsors

Volunteers & Sponsors

Contact Frontier Days

Experience the Past!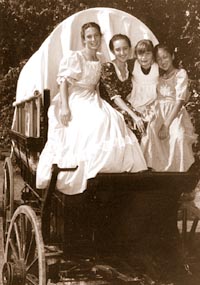 Each year as summer drifts slowly south on the Feather River and autumn steals silently down the Sierra Nevada Mountains into the foothills and then across the broad Sacramento Valley, a historical experience is readied for presentation to the people of northern California.
Beckwourth Frontier Days, northern California's first living history festival, takes place the first weekend in October in Marysville, California.
Beckwourth Frontier Days was established to honor James P. Beckwourth, an unsung, genuine American hero of mixed ancestry who created a lower, safer passage across the Sierra Nevada Mountains in the mid-1800s.
Marysville is the gateway to Gold Country... and the end of the Beckwourth wagon train trek across the Sierras.
Beckwourth Frontier Days is a hands-on historical experience for young and old alike.
Beckwourth Frontier Days, Inc. will be an active participant in Gold Rush Sesquicentiannial activites being organized by the State of California. Financial support is by commercial and private sponsorship. The City of Marysiville is the number one, major sponsor of the event providing some financial support as well as the facility, services and labor.
Mission Statement
Beckwourth Frontier Days is a celebration of living history. Its purpose is to provide family oriented entertainment, education and historical authenticity in a historical setting of the mid 1800s in order to promote appreciation of multiculturalism in the Yuba-Sutter community.



Website design and production by Mark Bradley Design, mbradley@bradleydesign.com.
Site hosted by Sutter-Yuba Internet Exchange.